James M. Herman, M.D., M.S.P.H.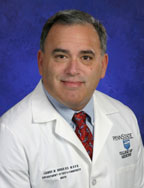 Penn State Hershey Medical Group Fishburn Road
845 Fishburn Road
Hershey, PA 17033
James M. Herman, M.D., M.S.P.H. is currently the Hershey Company Professor of Family and Community Medicine at The Pennsylvania State University College of Medicine, where he also serves as Associate Dean for Primary Care and Primary Care Research, Director of the Center for Primary Care, and Chair of the Department of Family and Community Medicine. Dr. Herman is a graduate of the Johns Hopkins University School of Medicine and the University of Rochester/Highland Hospital Family Practice Residency Program, completed a Robert Wood Johnson Foundation Fellowship Program in Academic Family Medicine. Dr. Herman served as a Fellow of the American Council on Education (ACE) and as a Marion F. Bishop Fellow of the Society of Teachers of Family Medicine Foundation. Prior to his tenure at Penn State, he directed a Family Practice Residency Program, served as a Medical Director for a managed care firm, and was a faculty member are Bowman Gray School of Medicine of Wake Forest University in North Carolina. He is a trained dialogic facilitator, and has helped numerous organizations deal with difficult strategic and operational problems. He has been an officer or Director of numerous professional organizations, including the North American Primary Care Research Group, the Pennsylvania Academy of Family Physicians, and the Family Health Foundation of Pennsylvania. He is the author of numerous publications in the fields of epidemiology, women's health, rural health, and medical decision making.
Fellowship, Family Medicine
University of Missouri - Columbia School of Medicine - 1983
Residency, Family Medicine
Univ. of Rochester, Highland Hospital - 1981
M.D.,
Johns Hopkins University, School of Medicine - 1978