Carl B. Rountree Jr., M.D.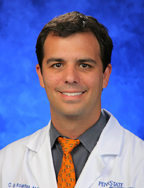 Penn State Hershey Pediatric Gastroenterology
500 University Drive
Hershey, PA 17033
Dr. Rountree received his medical degree from the University of Texas School of Medicine. He completed his Pediatric Residency and Pediatric Gastroenterology and Nutrition Fellowship at the Children's Hospital of Los Angeles. He has clinical interests in pediatric liver disease including infectious and autoimmune hepatitis, biliary atresia, obesity and cystic fibrosis related liver disease. He also performs research in understanding the role of liver stem cells in liver regeneration. Dr. Rountree joined our faculty in 2007.
Fellowship, Pediatric Gastroenterology
Children's Hospital Los Angeles - 2007
Residency, Pediatrics
Children's Hospital Los Angeles - 2003
M.D.,
University of Texas Medical School (San Antonio) - 2000